Hiring all positions!
Cooks
Pay starting $12-14/hr, based on experience
Day Shift and Night Shift available 6am-3pm, 9-5pm, 5-midnight
Waitress/Bartender
Must be 21 years old
Evening Shift 5pm-midnight and Night Shift 8pm-3am
Must have customer service and serving experience
Willing to train, Base pay + tips
Where to apply: email Naseembahari13@gmail.com or come in for immediate interview Monday-Friday 9am-3pm
---
Hiring all positions! Career advancement opportunities for motivated individuals who want to lead others and serve our Oakland community.
Cooks
Pay starting $12-14/hr, based on experience
Day Shift and Night Shift available 8am-4pm, 4pm-midnight
Waitress/Bartender
Must be 21 years old
Day Shift and Night Shift available 8am-4pm, 4pm-midnight
Must have customer service and serving experience
Willing to train, Base pay + tips
Where to apply: apply in person at 1909 NE Seward Ave or email resume to abigailsgrillandbar@gmail.com
---
Andax Industries is looking to fill several positions including, Full-time Sales Representative, Full-time Mechanical Engineer, Full-time Production Associates, Full-time Machine Operator and Portable Lighting Systems Repair Tech. Andax offers competitive wages, Paid time off and holidays, plus benefits.
Where to apply: https://www.andax.com/careers.aspx
---
Applebee's Grill and Bar is now hiring all positions! Positions include – Line Cooks, Dishwashers, Servers and Hosts.
Where to apply: https://www.rmhjobs.com/
---
Asset LifeCycle is looking for CDL drivers as well as general warehouse workers.
Where to apply: https://www.assetlc.com/join-our-team/
---
Berlin-Wheeler is looking to hire motivated candidates. Benefits include flexible scheduling, discounts, work from home, advancement opportunities, health benefits, competitive wages, and more.
Where to apply: Online at berlinwheeler.com or by calling 785-271-1000
---
Big Lakes Development Center
Big Lakes supports adults with intellectual and developmental disabilities. They are currently recruiting for Direct Support Professionals to provide quality services to promote choice, independence, and inclusion for the individuals we support. STRIVE to make an impact in your community!
Where to apply: biglakes.org
---
Brown's Tree Service has been in business since the 1970's and serving the Topeka, KS area. We are looking for experienced, motivated individuals for our Arborist position. Pay ranging from $15-25/hour. They offer medical and dental insurance, 401K, performance bonuses, overtime plus paid and holiday time off.
Where to apply: HERE
---
Cap City Outlet is a local family-owned business in Topeka, KS looking to hire a new team member. Candidates will preferably have some experience with social media, online shopping, and sales experience. Must have the ability to consistently lift items weighing up to 20 lbs, and up to 60 lbs or more with a team member or pallet jack. Position includes work at the sales counter, showroom, and assembly area. Good customer service and engagement skills are needed. Pay is based on experience.
Where to apply: Email floyd.hiatt@capitolcitypawn.com
---
Chavez Inc. specializes in fire, water, and mold remediation, and disinfection, and environmental cleaning services. They are hiring a Lead Restoration Technician. The Lead on-site technician reports directly to the Restoration Supervisor. The Lead Restoration Technician is responsible to handle specific tasks associated with smoke, water, mold, bio-recovery, and environmental restoration projects.
Where to apply: email amandac@chavezrestoration.com
---
Concrete Supply is hiring several locations across Kansas including Topeka, Ottawa, Garnett, Salina, and more. Positions available are CDL Ready-Mix Drivers, CDL Truck Drivers, Ready Mix – Order Taker, Loader Operator, and Plant Laborer.
Where to apply: https://www.cst-bc.com/employment
---
1st job opening: Packaging Operator – Starting pay $18.28 / hr, $1.00 shift differential for 2nd shift
2nd job opening: Maintenance Technician – Starting pay $30.00 / hr. 1st shift position
---
Family owned and operated since 1986; seeking HVAC manager to oversee commercial projects.
Cooper's is currently accepting applications for an HVAC manager. Applicants must have a minimum of 2 years experience in the field and provide own hand tools. Compensation based upon knowledge, experience and/or education. Cooper's provides 100% health insurance and paid holidays. Paid vacation/401K after 1 year of employment
Where to apply: For immediate consideration, please email holly@coopersinc.net
---
CUMULUS MEDIA | Topeka, KS currently features 6 stations in the Topeka metro area. Majic 107.7, V100, 102.9 Cat Country, 99.3 The Eagle, 1490 KTOP and 1440 KMAJ reach thousands of listeners on a daily basis. At Cumulus Topeka we strive to hire passionate, driven, resourceful, problem solvers who have the ability to drive the evolving, diverse culture of the Power of Radio to success.
Part Time Marketing & Production Assistant
Responsibilities:
Drive station vehicles in the Topeka area to expose station brands
Interact with listeners to create a positive community with our stations
Assisting the Promotions/Marketing Department

Including creating e-blasts, graphics, social media posts & website posts
Set-up of station events – including pop-up tent, banners, table, tablecloth, etc.

Running the audio board in a radio station control room to broadcast sports play by play
Perform other projects and duties as assigned
Requirements:
Must be 18 years of age or older with a High School Diploma or GED
Must have a valid driver's license and clean driving record
Able to work up to 20 hours/week
Friendly and outgoing personality a must
Demonstrated experience using audio editors such as Reaper and Office products
MUST be willing to learn new skills
MUST be available nights and weekends
All new hires must be fully vaccinated for COVID-19 by date of hire, subject to legally-mandated accommodations
What we offer:
Competitive pay
Professional growth and career path
Focused, responsible and collaborative work environment with the ability, to ask "what if" and try innovative solutions
401K with company match to plan for the long-term
Account Executives
We're looking for people to generate and convert leads for local businesses and offer them unique radio and digital advertising solutions to help build their business. Cumulus offers a dynamic work environment, uncapped commission potential, and an attractive employee benefits package. Ideal candidates must have minimum of 2 years outside sales experience. Apply today! Cumulus Media is an equal opportunity employer.
Key Responsibilities:
Able to identify client business needs by gaining a deep understanding of their goals, objectives and processes as well as their external environment including key market and consumer trends to proactively develop customized advertising solutions to meet client objectives
Deliver effective multi-platform, integrated sales presentations (broadcast, digital, events); negotiation and closing
Beyond our broadcast products, have strong familiarity and become full-versed in selling both Cumulus' station digital assets (e.g. streaming, stations website and social advertising) and digital audience extension products to deliver a complete marketing solution to advertisers
Excel at prospecting and aggressively seeking new clientele by networking, cold calling, canvassing, referrals or other means to build and maintain a full pipeline of sales prospects
Follow all station and corporate procedures for preparing orders, resolving billing issues, submitting regular reports regarding sales, pipeline lists, forecasts and competitive analysis
Stay abreast of the competitive landscape and emerging technologies to best position Cumulus in the marketplace
Think creatively and generate original ideas
Where to apply: For immediate consideration, please visit https://cumulusmedia.jobs.net/
---
Custom Job Shop LLC
Custom Job Shop LLC is a sheet metal company that provides parts for mowers, bass boats, mailboxes, suspension parts, screen printing equipment, and more. Their equipment consists of 2 CNC lasers (1 fiber and 1 CO2), 1 CNC punch press, 4 press brakes, and 4 welders. They are looking for CNC laser operators, punch operators, brake operators, general laborers, and welders.
Where to apply: Send resumes to mitchellr@cjsllc.kscoxmail.com or call (785) 783-3304
---
Eagle Auto Wash & Detailing Salon
Come work for the car wash voted #1 in Topeka! NOW HIRING Full Time & Part Time
Wash Attendants/Detailers. Multiple positions are available for immediate hire.
Here's your opportunity to work on some of the most beautiful vehicles in the area. We are looking for hardworking individuals who like a fast-paced work environment and can withstand all weather conditions as we are open year-round.
• Flexible schedules.
• Full hourly wage plus employees keep ALL tips.
APPLY IN PERSON OR ONLINE AT https://www.eagleautowash.com/employment
---
Full Time Plumbing help needed:
Primary responsibilities include the installation and repair of residential and commercial plumbing systems, well pump repair and drain cleaning. Benefits include, paid vacation, 401k plan, cafeteria plan, paid holidays, uniforms and insurance. We are located in Seneca, KS
Where to apply: Send resumes to barb@eisenbarthplumbing.net or call (785) 336-2361
---
Ernest-Spencer Inc. provides superior quality metal fabrication, precision machine shop services, custom coatings, and specialty manufacturing services. They are looking to hire Assembly Technicians, Experienced Welders, General Laborers, Laborer In Fabrication Department, Metal Finisher, Paint Laborer/Trainee, Quality Control Inspector, and Robotic Weld Operators
Where to apply: Online at ernestspencer.com/careers
---
Evergy Plaza is looking to hire Event Staff. Must be friendly and have a positive attitude.
Where to apply: https://careers-spectra.icims.com/jobs/6081/event-staff-%7c-evergy-plaza/job
---
Express Employment Professionals – Lawrence
Express Employment Professionals is a local staffing agency that helps people looking for jobs in the light industrial, clerical, or professional industries.
Where to apply: https://www.expresspros.com/LawrenceKS/Job-Openings.aspx
---
Family Service & Guidance Center
Family Service & Guidance Center has been making a positive impact on the lives of children in Shawnee County and across northeast Kansas for over 115 years. FSGC was established in 1904 to help victims of a devastating Topeka flood. The agency distributed blankets, clothing, food and even made hot baths available.
As the needs in the Topeka community changed, so did Family Service & Guidance Center's focus. In the 1950s, the organization's attention turned from meeting basic welfare needs to community mental health care. In 1984, FSGC dedicated itself to meeting the unique mental health needs of children and families.
Today, careers at FSGC Topeka involve providing direct clinical services, prevention education and outreach to more than 10,000 children, adolescents and families from over 30 Kansas counties each year. FSGC is an innovator and a recognized leader in children's mental health services, employing more than 260 staff members on a centralized three-building campus and a Crisis Resolution Program building.
Where to apply: Please visit the FSGC Career portion of our agency website to review open positions and easily apply: https://www.fsgctopeka.com/careers/ 
---
First Class Transportation
We are a medical transportation company located in Topeka Kansas. We are looking for a full-time dispatcher. This person would be responsible for maintaining records, billing, answering phones, booking appointments and dispatching drivers. The ideal candidate would have a working knowledge of the city of Topeka. This person would also know Microsoft Access and be able to learn the database that we use and work with minimal supervision. This person must be a reliable individual and have reliable transportation.
Where to apply: If this sounds like you please send your resume to our email address: firstclasstopeka@hotmail.com and we will set up appointments from there.
---
First Student is the largest provider of school transportation in North America.
​Each school day, our team of expertly trained drivers, monitors, dispatchers and maintenance technicians come together to deliver the safest form of school transportation for students and families.​
Where to apply: Apply online at WorkAtFirst.com or call the Lawrence location directly at 785-841-3594 for more information.
---
Focus partners with large-scale distribution and manufacturing companies seeking large numbers of employees. We are a unique hiring organization providing direct-hire, staffing, and onsite workforce management service for employers with high-volume employment needs
Where to apply: https://focusjobs.com/jobs/location/topeka-ks/
---

We operate the largest manufacturing facility for Cellophane and Natureflex renewable packaging films in the world!! Our facility is located in the Topeka, KS area. NOW OFFERING $1,000 IN SIGN-ON AND RETENTION BONUSES AS WELL AS RELOCATION ASSISTANCE IF YOU LIVE MORE THAN 50 MILES AWAY!
Where to apply: You can view all open positions or use the following search form to find jobs that suit your specific career interests. https://careers-futamura.icims.com/jobs/intro?hashed=-435627301
---
Green Dot Bioplastic is seeking driven individuals interested in being part of a team that challenges the status quo. We anticipate openings in Office Administration, Commercial Development, Operations and Production, Sales, Manufacturing, and more.
Where to apply: Send your resume to careers@greendotbioplastics.com
---
Hague Quality Water has been in business since 1960, and we are looking for self-motivated individuals to perform water tests and give sales presentations to people and businesses. We provide all equipment and have complete training for this position.
Where to apply: https://www.haguewatertopeka.com/employment
---
Hayden Tower Service, Inc. (HTSI) is a leading national communications construction company providing complete turn-key wireless site installations and tower maintenance in over thirty states including Kansas, Nebraska, Iowa, Missouri, Oklahoma, Texas, and Colorado.
Where to apply: https://www.haguewatertopeka.com/employment
---
Henderson Fence is looking for general labor help and positions for more experienced applicants.
Where to apply: email scotthalverson@ymail.com
---
Hillsdale Place LLC
Small Assisted living for seniors. Hiring CNA and CMA and LPN. Part time and full time.
Where to apply: email tamgo97@yahoo.com
---
We are a senior care community based out of Silver Lake and St. George Kansas. We have a brand new building in Silver Lake, looking for residents and employee's.
Where to apply: email shelby@homeoftheflinthills.com
---
The Housing & Credit Counseling Inc. is hiring one-on-one telephone (limited in-person) counselors who will deliver group classroom education services to tenants, their advocates, and landlords based on laws, codes, and rules involving rental housing. Training provided. Full-time, grant-funded position. Requires the ability to learn and apply landlord/tenant laws and other rental housing info. Technical skills and the capability to work in a team environment, essential. Bilingual in English/Spanish is a plus.
Where to apply: https://hcci-ks.org/careers-at-hcci
---
Heartland Coffee & Packaging
Heartland Coffee & Packaging is looking to hire hard-working employees in packaging and machine operating. Hours are 7:00 am – 3:00 pm, Monday – Friday. Jobs do require some heavy lifting.
---
Hope Ranch Therapeutic Riding Center
Hope Ranch Therapeutic Riding Center is a horseback riding center for individuals with disabilities that ride during classes on different days of the week. We are looking for Instructors for our program in Topeka and Manhattan. The instructors are paid $15 per lesson and lessons last about an hour with riding time of about 30 plus minutes.
Where to apply: http://hoperanchks.org or email kenscroggs@hoperanchks.org
---
Horton Meat Processing is a slaughter-to-cut store. They are looking for hardworking people to add to their team.
Where to apply: Call Brent at 785-487-6328
---
JAG-K is a 501(c)3 non-profit that partners with public schools to offer an elective class that provides academic and other positive supports to ensure students earn their diploma. By exploring career opportunities and practicing soft skills, students are prepared to successfully transition to post-secondary education, military service, or into the workforce following their graduation.
Now hiring Career Specialists at multiple locations throughout Kansas.
A benefit package includes a generous paid time off and holiday schedule with competitive health benefit offerings.
Qualifications:
Bachelor's degree, preferred.
Experience working with youth, prefer minimum 2 years.
Valid Driver's License, required.
Excellent verbal and written communication skills.
Ability to work independently while managing multiple priorities.
Understanding of policies, laws, and guidelines related to education including, IDPs, and 504.
Technology proficient includes virtual meeting platforms, school technology and data management programs.
EOE
Where to apply: https://jagkansas.org/career-opportunities/
---
J-City is a new restaurant located in Junction City, Kansas searching for experienced hospitality workers. They offer competitive wages, weekly pay, and a $200 sign-on bonus for all new hires after 30 days. They are hiring for front-of-house, experienced bartenders, servers, hosts, line cooks, and dishwashers.
Where to apply: https://www.jcityrp.com/jobs/
---
Jefferson's Restaurant will be opening in Topeka in March 2022. We are looking to hire for all front and back of house positions. I'd be happy to provide more information when I hear back. Thank you!
Where to apply: Contact Chelsea Jennings at chelsea@jeffersons.com.
---
Juli's Coffee and Bistro is looking to hire full-time positions as Baristas, Catering Manager, Line Cook, and Dishwasher/Kitchen staff. All positions require knowledge of food safety and experience in the specified position.
Where to apply: Online here or In person at 911 SW Kansas Ave. Topeka, KS 66612
---
Part-time job, full time benefits potential for full-time employment. Health and life insurance. 100% paid college tuition. Help with full-time job placement. Paid credentialing. Many openings in all areas. Freedom to move. Top pay. Must be between the ages of 17 and 35. Call today to see if you qualify!
Where to apply: Call 785-646-3600 or Text "GUARD to GOARMY (462769)
---
Kansas Central School Bus is looking to hiring school bus drivers. Safely transport passengers in multiple types of vehicles, including those with manual and automatic transmissions.
---
The Kansas Neurological Institute is looking to fill over 50 Mental Health/Developmental Disability Technician vacancies. These positions are entry-level health care positions with no experience necessary. MHDDTs will receive CNA training and certification (at no charge to them) and an opportunity to attain certification as a medication aides. MHDDTs provide direct care to our 135 residents in a 24/7 home-like facility.
Where to apply: http://jobs.ks.gov
---
Make an impact in your community! This is a great opportunity to be a mentor and help students become the best versions of themselves. Educators are essential to ensuring students continue to learn and grow every day.
Where to apply: Online here or Email resumes to merf551@kellyservices.com
---
Specialist/Building Operations
Summary of Position: Responsible for performing custodial services for the Union facility as well as setting up for events following established procedures and guidelines.
Work Schedule: 2 shifts available, Monday-Friday
6 a.m. to 2:30 p.m.
5 p.m. to 1:30 a.m. (eligible for $0.60/hr shift differential pay)
Pay range: $13.08/hr
Where to Apply: Applications and/or résumés are accepted via the Union website http://https://union.k-state.edu/employment-application or Indeed. Applicants can also contact the Union HR department at (785) 532-6577 or unionhr@k-state.edu.
---
Randy Long Trucking has immediate openings for Class A CDL drivers and is looking for experienced End Dump and Dump truck drivers for local hauling. Work for a small business that takes care of its employees. They offer competitive wages, benefits and you are home every night!
Where to apply: https://www.longtruckingks.com/employment or visit their office at 7939 SW Topeka Blvd, just past 77th Street on the west side of Topeka Blvd.
---
Loving Hearts Topeka is a Training Center for Adults with disabilities. They are looking for caregivers at their Day center and residential services. They will train the right people.
Where to apply: http://lovingheartstopeka.com/join/
---
Masterson Staffing Solutions not only provides quality and reliable services, but also brings talented workers and great companies together — and drive them to achieve their respective goals.
Where to apply: http://masterson.aqore.com/apply/Masterson
---
Mater Dei Child Care Center is seeking a full time, Lead Toddler Teacher & a Preschool Teacher Assistant to come join our school family.
Where to apply: email resume to materdeiccc@materdeischool.org or call 785-232-1603
---
Mental Health America of the Heartland
Mental Health America of the Heartland is a longstanding, stable, $1M, non-profit mental health advocacy organization and is seeking one or more qualified individuals to assume all responsibilities within our finance office.
We are also hiring one or more persons to provide a total of 40 hours a week of support to nine (9) new residents in a Topeka, Kansas apartment complex. Residents are persons with mental health diagnoses who have lived in nursing homes and are ready to reenter the community. Staff will assist residents to relearn independent living skills, set goals, and integrate into the community, and in partnership local mental healthcare providers, manage their illnesses, secure treatment, income and insurance.
Where to apply: email resume to csaddler@mhah.org or call 913-222-5934
---
Metropolitan Topeka Airport Authority
Position Summary:
Responsible for the overall management of the industrial and commercial properties to satisfy the requirements of the MTAA and tenants; to preserve and increase the value and integrity of the properties; and to meet financial objectives. This position shall plan and execute leasing activities in an effort to prevent costly vacancies. Responsibilities include marketing properties, screening potential tenants, negotiating lease terms and following up on rental payments. Depending on the property, may address these tasks personally or through leasing agent.
Where to apply: email resume to mnarsh@mtaa-topeka.org or call 785-862-2362
---
The Laborers' International Union of North America (LIUNA) is one of the most progressive and strongest unions in the country. With over 500,000 members, LIUNA is the eighth largest labor organization in America, representing a skilled and diverse workforce. Laborers are construction workers, government workers, health care providers, industrial employees, service workers, and educators. We train Apprentices for a career as a Laborer.
Where to apply: http://liunabuildsks.org/join-us/
---
Lawn Maint and Maintenance – Full time position 12.50 – 13.50 per hour. Should have experience in maintenance and lawn care.
Where to apply: http://missioncreekcamp.org or email cscroggs@missioncreekcamp.org
---
Old Chicago in Topeka, Ks is now hiring Servers, Line Cooks, Pizza Line Cooks, Hosts, To Go specialists, & Bartenders
Full and Part-Time positions available. They offer Insurance options and meal discounts
Where to apply: https://oldchicago.jobs/
---
ORBIS Manufacturing Osage City, KS
You're focused on growing your business. All the points along your supply chains are scrutinized – including the packaging used to move your products. We offer plastic bins and plastic containers for food and beverage, environmental, industrial or storage and distribution. Driving supply chain efficiency is where we excel. ​
​
Reusable packaging is at the core of our product offering. Our plastic pallets, plastic totes, bulk containers, metal racks and all types of dunnage will improve the flow of your products. Our solutions will reduce your costs and maximize your profits.
Where to apply: online or call Kirstin at 785-528-4875.
---
Paisano's Ristorante is now hiring all positions. Applicants must have night and weekend availability. Experience is preferred but will train the right individuals.
Where to apply: https://paisanoskansas.formstack.com/forms/paisanos_job_application
---
Peraton is now hiring. All positions are listed on the website, click on the posted positions to view description and apply.
Contact Nick Longhofer at nicholas.a1.longhofer@peraton.com or 620-278-6360.
Where to apply: https://https://careers-paraton.com/jobsearch
---
You've heard us say that Prairie Band Casino and Resort gives you more ways to play. Now you can play over forty of your favorite new slots Prairie Band One Stop, located at Highway 75 and 190th road. What's even better? You'll get the same Players Rewards that you'd earn at Prairie Band Casino. Plus, gamers 18 and older are welcome. So, visit the Prairie Band One Stop and she how we are giving you more ways and places to play.
Where to apply: Jobs.prairieband.com
---
PTMW is hiring for multiple positions, including, CNC Brake Operators, Welders and Production Labor Workers.
$800 SIGNING BONUS!! Excellent benefits, employee bonus programs, health insurance, and highly competitive pay starting at $17 per hour are just a few of the many benefits! APPLY TODAY!
Where to apply: Call 785-232-7792, Email HR@PTMW.com, In Person 5040 NW US Highway 24, Topeka, KS 66618
---
Founded over 70 years ago, Reser's is committed to growth and development, excellence in product quality, and outstanding customer service. Our people are what make the difference, and we thrive together in a culture dedicated to hard work, family, and fun. Put simply, Reser's is a great place to work. We're searching to fill plant production workers, maintenance, warehouse, sanitation, and some management positions at all plants in Topeka. No experience is needed, but a drug screen will be required.
Where to apply: https://www.resers.com/about-us/careers/
---
We are currently hiring in the Kansas City Area:
-Insurance Commercial, Personal and Benefits Account Managers
Where to apply: https://www.newmangroupsearch.com/
---
Silver Lake Bank is looking to hire a Full-Time Branch Manager/Business Development, A Full-Time Customer Service Executive Assistant and Tellers.
Where to apply: https://www.silverlakebank.com/employment
---
SLI is searching for compassionate, dedicated, professional individuals to join our team. SLI provides support to individuals with intellectual disabilities. This rewarding career includes training and great benefits, including next day pay. $1,250 hiring bonus within first 9 months of satisfactory employment. Full or part time shifts available. $15/hour with acceptable driving record. All positions require thorough background screenings, post offer pre-employment drug testing. EOE. Visit our website for current openings.
Where to apply: https://www.slitopeka.org/employment/employment
---
So Long Saloon in Manhattan is looking to hire eager learners to cook and prepare excellent food. Employees must be willing to follow food safety and cleanliness procedures at all times as well as communicate professionally & efficiently with colleagues.
Where to Apply: Email your resume to solonglucha@gmail.com
---
Stormont Vail Events Center is looking to hire several positions including – Director of Finance, Event Manager, PT Event Staff and Ticket Seller, Operations Event Staff, and Operations Coordinator.
Where to apply: Online at spectraexperiences.com
---
Pathway Family Services is looking for passionate, dedicated individuals to join our team! Why should you join the PFS team?
Competitive pay

Flexible schedule
Health, dental and eye insurance
Life insurance
401(k)
20 days of personal leave in first year of employment
11 paid holidays
Longevity bonus
Where to apply: Online at https://pathwayfs.org/employment/
---
Youth Discipleship Coordinator
Topeka First United Methodist Church 600 SW Topeka Blvd. Topeka, KS 66603 • (785) 233-8100
Position DescriptionOverview The Youth Discipleship Coordinator is a salaried position working at ½ Time. This person works under the direction of the Director of Discipleship to coordinate and lead youth, volunteers, and parents already and not yet connected to Topeka First UMC in the discipling of youth. In performing all duties, this position should be mindful of our discipleship pathways – Worship, Life Group, Generous Giving, Servants, and Storytelling – in living for Christ and the good of the city. Qualifications: • Committed to growing in relationship with Christ, pursuing spiritual maturity • Commitment to Christ's ministry through the United Methodist Church • High level of people skills, ability to recruit, train, and retain volunteers • Excellent time management and organizational skills • Excellent communication skills, verbal and written • Experience working with and leading youth, volunteers, and/or parents • At minimum, some college experience is preferred • Certified in First Aid, CPR, and Safe Gatherings, or completion within 30 days of hiring Responsibilities: • Execute weekly, monthly, trimester, and annual youth discipleship events planned by the Youth Discipleship Team (YDT) • Follow provided curriculum from the Director of Discipleship • Recruit leaders and volunteers for Middle and High School discipleship offerings • Communicate with youth, their parents/families, volunteers, church staff, and congregation about the needs, offerings, and strengths of Youth Discipleship • Manage Youth Discipleship budget and fundraising • Regular individual parent and youth connections (in person, Zoom, phone call) • Collaborate with Discipleship Staff, as well as other youth workers in the Topeka District and Great Plains Conference Area • Continuing Education and Professional Development • Engage students outside of church activities and offerings • Lead and serve in worship with youth when possible • Supervise college interns and qualified paraprofessionals Reports to: Director of Discipleship Part-Time: 20 Hours Compensation: $20,000-$22,000 a year (negotiable based on work experience and education qualifications
Where to apply: Online at forthegoodofthecity.org
---
Topeka Metropolitan Transit Authority
The Topeka Metropolitan Transit Authority is looking to hire Bus Operators, Maintenance Technicians IV, Safety & Training supervisors.
Where to apply: Online at topekametro.org/careers
---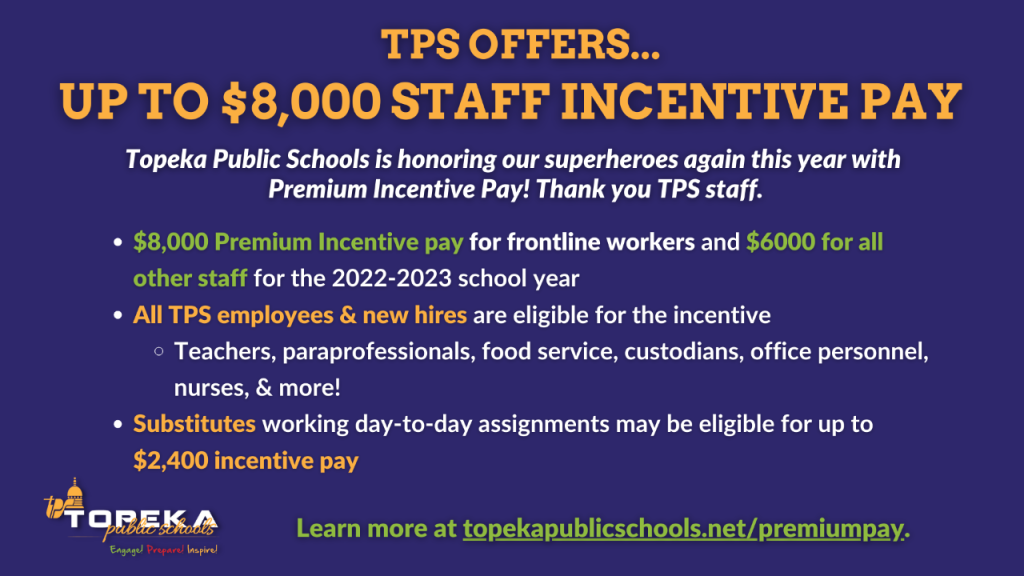 ---
RNs, LPNs, and CNAs who are licensed in the state of Kansas are needed in various long-term care facilities around the state. Short and Long Term Assignments are available with COVID pay included. The cities included are Kansas City, Overland Park, Topeka, Great Bend, Hutchinson, Wichita, Shawnee, and Tribune.
Where to apply: Email your CV to Liebetraus@tristatenursing.com or online here!
---
It's not just a job, it's a career! We are a family-owned and operated business that has been helping men and women reach their goals as truck drivers for nearly a decade. Instructors at the school bring decades of experience and are passionate about bringing successful drivers into the workforce.
Where to apply: Call 785-266-3230 or email info@whitelinecdl.com
---
We are looking for dependable people with a positive attitude. Come join our team at Wings Etc. Grill & Pub for a relaxed work environment. We are looking for servers, bartenders, and cooks.
Where to apply: Call 785-271-9464 or email Daivd Clingenpeel at davecling@aol.com